All of us know that there is a paradigm shift in today's Marketing. The shift is from traditional approach of going outbound, to being more inbound in nature with the use of technology. The challenge is more in B2B Marketing circle compared to B2C. The obvious reasons being: the value of a B2B deal is higher hence the sales cycle is longer which makes it a multi stage process; there are generally more than one decision makers and in most cases they are well informed subject matter experts. To add to all of the above, there is nothing called impulsive buying in B2B space for a marketer to make it a mass campaign.
This change is further confirmed by a study done by DemandGen, clearly showing today's B2B buyer is more informed and empowered.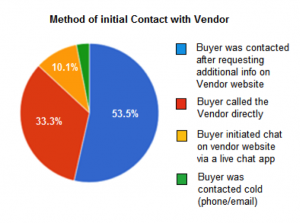 As you see it, going outbound (the green part) is thinning. In all other cases buyers are doing their homework, are well informed and are getting in touch with the service providers themselves. Hence, it becomes imperative to be visible and to be found.
With these practical challenges in B2B marketing hemisphere and with ever changing marketing game, what are those basic formulae that today's marketer should be following? I personally like this approach of questioning self. So, lets start by asking some basic but critical questions to ourselves. As a B2B marketer, whether your prospects found you or you approached them, before you initiate the conversation, be ready to answer if your prospect asks you:
Who you are? (Prospect dint find you/your top guys on LinkedIn)
What is your company into (Prospect dint find Company 's link on first page of Google???)
What's your company's services (Your website is not easy to go through. Ah damn! that's so basic)
Who are your company's partners (not so well known in the industry)
Who are your company's customers (someone is talking about you as Tier3 vendor in one of the forums / communities)
What's your company's reputation (your ex-employee is talking bad about the work culture on social platforms)
Imagine where your sales pitch goes after falling nose down on all or any of the above queries posed by your prospect. Are you prepared??
So now, when you know it is imperative to be found whether or not you are going out to sell, there are things to be taken care from a marketing point of view. This is termed as 'Inbound Marketing'.
Because Inbound marketing has been a proven concept, everyone is working on making their business easy-to-be-found. Now the Inbound marketing game is more than being visible, its all about earning the attention of your prospects and engaging them in the conversation.
The question is, what are those magical techniques that can do the dual magic of being found and earning attention.
Inbound Marketing Techniques:
Search Engine Optimization: Optimizing WEBSITE content and codes
On-Page Optimization
Off-Page Optimization
Business Blogs: Creating Thought Leadership
Social Media Optimization: Engage prospects on Social Platforms
Digital Asset Creation and Distribution
Step by Step Process of Creating Long-Term Inbound Marketing Plan:
Keyword and Competitor Analysis – Finding Killer Keywords and Putting Them to Work for you. Know how to find keywords and phrases that your target audiences could use to find your business.
Fixing Website – Content + Codes + Call to action + Navigation + On-page SEO – Optimizing your site to make search engine bots love it, even if you think you're doing "just fine" without it.
Off-page SEO Plan post Penguine/Panda updates – Giving Away Content Will Build Your Business. Your overall search presence can be influenced by your online social interaction, online pressrooms, targeted blogging, and link branding.
Content Strategy for Blog Marketing – Would you be the one to break news about changing trend?
Conversation Plan for Social Media Engagement – your social activity can influence where your site or blog ranks on search engine result pages (SERP).
Digital Asset Creation around Service portfolio – (Whitepapers/ Presentations/ Videos / Infographics / Case Studies / eBooks / Webinars…)
Use Marketing Automation Tool to manage conversations and leads – Be on top of the execution coz this is not a day's or a week's activity. It takes months to start getting quality back links and create brand ambassadors
In my next set of posts, I'll be explaining each of the Inbound Marketing Techniques along with some cheat sheets required at each of the above steps in the B2B Marketing Plan.
Do let me know, if you agree with me that the whole inbound marketing game is no more about just being found…