Measure your Social Media ROI
For Businesses, whether or not they are directly dealing with end consumers, social media is either about networking or branding? Point is how would a Social Media manager review the ROI of his social media efforts.
Lemme list down some parameters and for the ease of understanding, I'v divided them into two categories – quantifiable and non-quantifiable:
A) Quantifiable Social Media Metrics:
Bottom Line: Do all of your updates, tweets, posts getting new business or in other words making money for you end of the day? If not then why at all you invest your time and money in it? Though this is the most important indicator of all, there are other pointers that we mentioned above, networking or branding. Sound more subjective but these are strong reasons how your overall marketing ROI can be judged positive. Lets dig a bit more.
Traffic: Here is another quantifiable result that can indicate whether or not your social media efforts are paying off! Traffic increase can mean increase in unique visitors to your website or product's landing page that in-turn might results in improved foot-fall in your offline store, which would end-up making sales. All that sounds so great, but how do you measure your traffic coming from Social Media. There are hundreds of tools out there.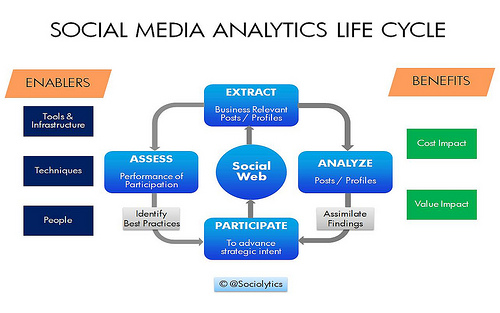 Image by Sociolytics
Top 10 Best Tools For Tracking Social Media Traffic:
BrandReact (Paid) – Allows monitoring the Social Media, News & Blogs. Uses KLOUT Influence determination. Allows you to organize your items and react to them, starting a dialogue with your customer.
QuickTagger (Free) – Categorize your links that you post on social media websites.Once you categorize where you want to publicize your links, the QuickTagger software will do all the necessary coding and will generate an extended link that will be interpreted by Google to sum up the visitors to enable you to analyze them in Google Analytics. In addition, you may use the shortened version of the link to track the number of impressions and further demographies of social accounts you reach if you have a tweetburner account.
Radian6 (Paid) – It helps companies to use the power of social media understanding more about it through measurements, analytic reporting, and metrics. Its social media tracking, listening, engagement and monitoring tools can help businesses in employing social media strategies and understanding the impact Social CRM and Social Graph have on their overall success.
Wildfire (Free) – Monitors Facebook and Twitter, it provides you with various tools and plugins for enhancing your social media engagement options and measure your performance using powerful analytics. You can monitor your growth trends and can also gauge your success on social media against your competitors by successfully comparing your followers across all leading networks.
HootSuite (Basic Free and Premium Paid Version available) – You can easily manage multiple social media profiles, schedule tweets and messages, analyze and track your social media traffic and brand mentions. Most of the analytics part is available under Paid version.
TweetDeck (Free) – This tool unified LinkedIn, Twitter, Foursquare, Buzz, MySpace and Facebook to give you an easy way to monitor and use social media. What's great is that when you immediately respond when your keywords are mentioned without leaving the program.
SproutSocial (Paid) – It Provides an inbox that combines your multiple social streams and then allows you to respond or flag messages for follow-up, making it easy to automatically post your RSS feed from your blog to your Twitter accounts. It helps you to remember the names of the people you follow by auto-suggesting their handles after you type the @ sign. Makes scheduling recurring messages easily but without being annoying.
Social Mention (Free) – It helps you in tracking and measuring what others are saying about your company, products, or other topic across the Internet's social media landscape. It monitors more than 100 social media properties including Facebook, Twitter, YouTube, Google, Digg, etc.
SocialPointer (Free) – It offers real-time monitoring tools for social media for individuals and marketing agencies and helps them in tracking, monitoring and responding to all relevant use conversations and social media mentions in real time.
BuzzStream (Free) – Automate mundane tasks like finding and saving profile and contact information. Get an instant snapshot of metrics to help you prioritize your activities. Build an instant dossier for each influencer.
B) Subjective Social Media Metrics:
Create Brand Ambassadors: Having more and more Facebook fans, Twitter followers and LinkedIn Connections means something and that is? This means you have more and more people like something about your business. They will spread the word about how your brand influence them. Doesn't that sound great? Something that a Social Media Manager has to make sure is that the followers are just not following or fans are not just linking and connections are just not connecting. Positive ROI is about the active engagement e.g., followers are re-tweeting or fans are sharing.
Create business relationships: Are your contacts giving you more business, increasing sales, referring to prospects? Here is the importance of not falling for the number game but meaningful relationships. Am not saying having 1,000 fans is not good… but lets again dont go for tricks like I scratch yours, you scratch mine!
Increased brand awareness: This is more subjective than any of the above, but not less important as well. Consumers are spending more time than ever using social media, as demonstrated in the Social Media Report recently published by Nielsen and NM Incite. Social media plays an important role in how consumers discover, research, and share information about brands and products. Read more here on how important Branding becomes when it comes to making Social Media as an important part of the Marketing strategy – http://blog.nielsen.com/nielsenwire/consumer/how-social-media-impacts-brand-marketing/
Online Brand reputation Management: When you Google your brand, what do you see? Where are people talking about you or your industry? What are they saying about you? Better yet, what aren't they saying about you? By taking the time to discover and listen, you can help distinguish pain points among your perceived or prospective audience. Social Media plays a key role in protecting brands: 58 percent of social media users say they write product reviews to protect others from bad experiences, and nearly 1 in 4 say they share their negative experiences to "punish companies". Many customers also use social media to engage with brands on a customer service level, with 42 percent of 18- to 34-year-olds acknowledging that they expect customer support within 12 hours of a complaint.
Social Media strategy has to be well defined. Quite often, companies just join the band wagon and dive into any and every platform without a plan because they think they have to be there. Businesses need to identify who their customers are, how they share information and where they feel comfortable and then which are the best platforms. Once you have decided the platforms to be part of, you need to keep your analytics in place to track, analyze and tweak it when-ever necessary.