Panda v/s Penguin – A Quick Comparison
The world of SEO has been witnessing a lot of buzz since past one year with algorithmic updates from Google. The Panda Update (launched on February 24th, 2011) and the Penguin Update (launched on April 24th, 2012) right after the latest Panda update (Panda 3.5 on April 19th 2012). While many small and big publishers were dealing with Panda updates, from 1.0 (Farmer Update) to 3.5 left since an year, latest Penguin update left them wondering what the real difference is. Let me try answer this:
Google Panda v/s Google Penguin

Panda Update

Penguin Update

Targeted at pages that aren't of Great Quality
Targeted at pages considered indulging in Webspam
Panda, went after Thin Content. Read What is Thin Content? by By Mark Ewbie
Penguin is primarily going after sites engaging in typical Black Hat SEO tactics like keyword stuffing, sites with unusual linking patterns.
Panda 1.0 (also known as Farmer Update) is designed to reduce rankings for sites considered low quality (sites which are low-value add for users) in terms of content/information. Basically three types of websites that can be included in this are – scraper sites, content farms and link farms which are spoiling the search result quality
Penguin is designed to penalize sites that attempt to propel higher rankings by over doing of on-page SEO and engage in link exchange schemes and build partner pages exclusively for the sake of cross-linking, disregarding the quality of the links, the sources, and the long-term impact it will have on their sites.
Panda 1.0 (also known as Farmer Update) affected 12% of Search Queries
Penguin has impacted about 3.1% of queries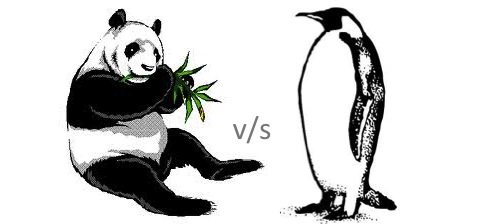 Honestly, I couldn't find much difference between the Panda and Penguin Updates. Panda was put in action to fight against Content scrappers or content farms and Penguin is to fight against the Webspam. Both major Updates from Google have a common goal – to help searchers find sites that provide a great user experience and fulfill their information needs. It is a difficult goal to achieve, while new content—both good and bad—comes online all the time. Finding out which are the better ones among the good ones need constant learning and updates. And in the process, take care of loads of garbage, that is of no use to anyone but contributing to the internet in terms of storage space problems.
Here are some tips on How to Deal with Google Updates:
| DOs | DON'Ts |
| --- | --- |
| Focus on creating high quality content, updated on a regular basis, and also offers value to the reader | Don't create multiple sites with similar content |
| Work on creating more natural links | Avoid many reciprocal link exchanges and link buying |
| Keep all page-linkings to a minimum and stop all kinds of hideout link practices | Don't use Doorway/Bridge pages created simply to trick the search engines |
| Build genuine Links, drive diversity and quantity of traffic for your brands by giving equal importance to – 1) Design and User-Experience and 2) Content/Information | Don't buy links from blogs creating excessive links to your site with a particular anchor text |
| Read Google's Quality Guidelines and indulge in White Hat SEO Practices | Avoid Black Hat SEO tactics |
If your site's page rank has come down, do not panic and start working on repairing your website and refine your SEO practices. These updates are not only going to stay but will keep knocking your SEOism. Be Good, Optimize Good and Think Long-term.