Research in Motion (RIM) 2012 Roadmap: New Playbook 2 and BlackBerry Curve 9220 & 9320
With the data pulled-in my earlier post (Top mCommerce Trends in 2012), Blackberry isn't in a good shape or in other words has lost quite of its hold in the market. Here are some fresh news from a leaked report by BGR (Boy Genius Report) talking about RIM's 2012 Roadmap:
Wondering what should we understand when the data is reported as "leaked". Anyhow, RIM doesn't mind as long as the news is exciting for Blackberry Boys and Girls:
According to the report, Blackberry's one year Handheld and Playbook Roadmap brings:
The new BlackBerry® PlayBook™ will have a 1.5GHz dual-core processor, will be endowed with 3G capability (42Mbps HSPA+ connectivity) and a built-in NFC hardware
New BlackBerry Curve, a new Torch, and a new Bold in the third quarter with upgraded OS.
A new "Wireless Media Server" feature for media sharing (Photos/Music/Video) with other devices.
New Blackberry Curve smartphones (9220 and 9320) will boast sleak looks with both QWERTY keypad and touch functionalities.
Next Gen OS is still a year and a half away (3rd Qarter, 2013) though.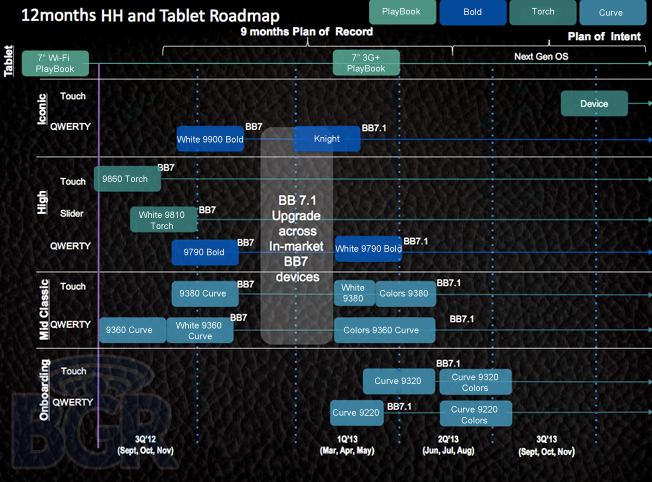 You can learn some more details on the matter through the slides available with BGR.
Recently, Research In Motion replaced co-chief executive officers Jim Balsillie and Mike Lazaridis with COO Thorsten Heins on Jan. 22. The new boss, in his first conference call said "I don't think that there is some drastic change needed,". Not sure what he means considering current trend where Apple's iOS and Google's Android is stealing the show, global mobile market. Looks like RIM needs to get back to what its called, 'Research-in-Motion" and continue to focus on both hardware and software. May be with the new OS BlackBerry 10 based on software used to run nuclear plants, acquired from a company in 2010. Now does this sound strong enough? Consumers will tell…
Another good news is, ex Boss Lazaridis have faith in Thorsten and believe BlackBerry will get back what it has lost to competition in recent past and this shows in his plans to buy additional stock worth $50 million (said in an Interview to The Record).
More and more news-makers are sure making the Mobile space exciting!