SEO On Page Optimization Basics – Part1
Search Engine Optimization of your website / product or service pages is the primary step in the Inbound Marketing Plan of Action. You got to start working on this right at the time of redesigning and restructuring your website. Am sure no marketer today has any doubt about why SEO is necessary at all. If you still have any, lets check out this latest Survey report from WebMarketing123.com. According the survey, SEO continues to be the most effective Lead Generation Channels for both B2B and B2C marketers. Taking the heads-up from the report on the objective of todays B2B and B2C marketers to further understand the importance of SEO among other Online Marketing channels:
For B2B marketers, lead generation is the top objective, and SEO is twice as effective as PPC (Pap-per-Click) or SMM (Social Media Marketing) for this purpose.
For B2C marketers, boosting awareness and reputation of their brands and products has doubled in importance since 2011, overtaking online sales as the top objective for digital marketing.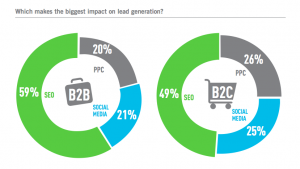 Click Image to get the enlarged View!
This makes it clear that for most marketers, SEO remains the primary source of traffic. As discussed in the last post, SEO starts from the very first step of inbound marketing plan, website design. You got to fix all the on-page SEO aspects when you are designing or re-designing your website. This might include:
Page size and load time
URL Analysis to check Broken Links if any
Check redirects to be 301
Custom 404 Page, to keep the audience in-site
Remove Duplicate Content
Now that you have your new website live (or fixed your old website) per above parameters, there are other on-page SEO aspects that needs to be taken care. But before we get into that, we need to do something very important. We go back to the same approach of asking a few questions to self:
Who is your target audience? (define and segregate them into different categories – age, gender, geographical location, education level and household income)
What do these people search for? (come up with as many keywords, phrases and combinations of all that can be used by a prospect from a specific category, to search information related to your products/services. There are tools available that can be helpful in coming up with the Keyword list giving you relevant searches on a keyword. Brainstorm internally – Ask your team members and internal subject matter experts the same question and get a list from them.)
Which are the best among the list of Keywords? (Once you have finalized the set of keywords, do the Keyword Analysis to find out – Impact Factor, Query Popularity and Query Competition Index check)
Which search engines are preferred by the targeted audience?
By being able to answer all of the above you have equipped yourself with the most important arsenal required to win digital marketing war. You have already done one phase of this research about your target audience from specific category to understand their buying behavior, browsing patterns, surfing time of day, what they surf internet on, their likes, dislikes etc while re-designing the website… Important thing to do after the research is to make a list of KWs (One word, Two Words, Long tail Keywords, etc.)
With this chunk of info in hand, by now you will have clear understanding of your prospect's persona. Next step is to understand how a search engine works, so that you will know how to get your website's content plus codes to be written and placed to make sure you get the combination right. Combination? – what Prospects look for and how a search engine makes your and other's business listed in front of them.
Check out my next post, when I tell you in and out of a search engine… 🙂 till then let me know what you feel about the Inbound Marketing ABC, we are exploring…